Property information
A renovated Norman home
Just 3 km from Buchy and only 30 km from Rouen, this house set in the countryside, is built in stone, brick and wood and is very well maintained. It's surrounded by a nice, fenced garden.
The house is ancient but the kitchen, bedroom and bathroom on ground floor are updated for modern comfort.
The beams and the large fireplace are typically from Normandy. This is the countryside but only a half hour drive from Rouen.
A cosy home
A modern fitted kitchen is on the left of the entrance hall. The latest model of oil heater is installed in the back kitchen where there is access to the cellar wine.
On the right side of the entrance hall is a good size living-room. A bay widow opens onto a shaded terrace. In winter, big logs of wood can be burned inside the large stone and brick fireplace.
On ground floor, there is also a bedroom and a bathroom.
On first floor there are 4 more bedrooms and the landing is a nice place to have a desk for working at home.
A garage, a workshop and a wood shelter
The house is surrounded by a 1 800 m² fenced garden, closed by an automatic gate.
The driveway leads to an outbuilding divided into a garage, a workshop and a storage for wood. A the back, the garden goes on, planted with many fruit trees and hedges.
A quiet setting
Only 3 km away from Buchy and 6 km from Montérolier-Buchy's railway station, this countryside house has easy access to Rouen, Paris, Amiens and Brussels.
Property details
Window type
Double glazing
Interested in this property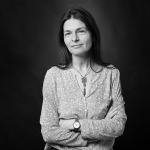 Marie CORNWELL
Ask for more details
Contact the agency
Be called back on this number